Centre of Industry and logistics Lovosice is the only one industrial zone with such a combination of transport (road, railway and inland water) in the Czech Republic.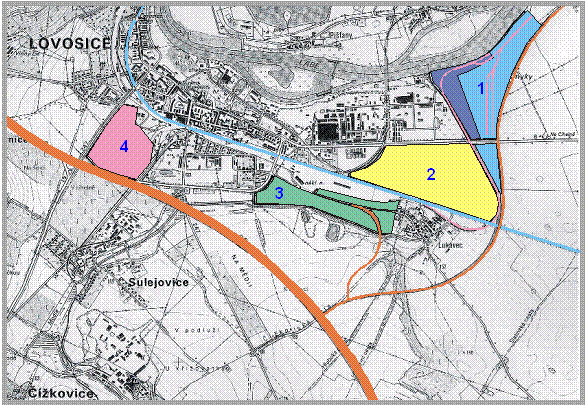 The interconnection of Lovosice with Prague and Dresden by railway in 1850 started the development of industry in this region. The City became an important railway junction of six transport directions. Lovosice is located on the 4th pan European transport corridor.
The aim of the city council is to expand industry even more. For this reason the general master plan established the total area of 120 hectares as a reserve for new industrial sites development. The Centre of Industry and Logistics is divided into 4 basic parts - zones.
We can provide you with variety of "greenfield sites" which are fully equipped with all utilities and transport networks.
directly connected with a highway feeder to the highway Prague - Dresden (in construction)
in a close neighborhood of a river port (the Elbe river)
in a close neighborhood of a railway siding connected with a railway station with high capacity
basic buried services - gas pipeline, electricity, drinking water, sewage
the road connection ready
Zone No. 2 (area of 22,0 + 4,9 ha)
directly connected with a highway feeder to the highway Prague - Dresden (in construction)
basic buried services - gas pipeline, electricity, drinking water, sewage
the road connection ready
directly connected with a high capaciyt railway station (lying on the 4th european corridor)
basic buried services - gas pipeline, electricity, drinking water, sewege
road and highway connection from existing road
Zone No. 4 (free area of Sugar factory- 10,3 ha and plot 4.3 - 3,8 ha)
zone No. 4 already occupied
the area lies directly at the Prague - Dresden highway (in construction)
all the grounds are equipped with a basic infrastructure